El papel del envejecimiento en el desarrollo de enfermedades cardiovasculares asociadas a patologías renales
Palabras clave:
Enfermedades cardiovasculares, Enfermedad renal crónica, Envejecimiento, Senescencia endotelial
Resumen
El envejecimiento es considerado un factor de riesgo para el desarrollo de enfermedades cardiovasculares (ECV), y el proceso de senescencia endotelial es el desencadenante de patologías isquémicas y ECV como la arteriosclerosis y la enfermedad renal crónica (ERC). En la senescencia endotelial, las células endoteliales pierden su capacidad de proliferación por el efecto de agentes lesivos como el estrés oxidativo y/o la inflamación generada en el proceso de envejecimiento. Las patologías cardiovasculares, junto al desarrollo de calcificaciones en la pared vascular, presentan una incidencia y prevalencia entre los enfermos con ERC muy superior a la que se observa en la población general. El desarrollo de calcificaciones cardiovasculares es un hallazgo habitual en los enfermos con ERC, sobre todo cuando estos enfermos requieren terapia renal sustitutiva con hemodiálisis (HD). De hecho, entre estos pacientes, las ECV constituyen la principal causa de morbi-mortalidad, aunque numerosas evidencias indican un carácter plurietiológico para las ECV en los enfermos con ERC. El incremento de estas patologías entre los enfermos en HD sugiere que existen elementos inherentes a la propia HD que actúan como factor patogénico en el desarrollo de las ECV. La caracterización de estos factores para desarrollar elementos de ayuda diagnóstica que permitan identificar enfermos en HD en riesgo de padecer ECV, y desarrollar terapias que eviten el desarrollo de estas patologías es el objetivo de nuestro grupo de investigación.
Citas
Milasan A, Tessandier N, Tan S, Brisson A, Boilard E, Martel C. Extracellular vesicles are present in mouse lymph and their level differs in atherosclerosis. J Extracell Vesicles. 2016;5:31427. PubMed PMID: 27664155. PMCID: PMC5035515. Epub 2016/09/22. eng.
WHO, Aging UNIo. Global health and ageing 2011 [Available from: https://www.who.int/ageing/publications/global_health/en/.
Coduras Martinez A.. La Sanidad Española en cifras Casal FG, editor2018.
Nuño Solinís R. Atención innovadora a las condiciones crónicas: más necesaria que nunca,. Revista de Innovación Sanitaria y Atención Integrada2009.
Estrategia de Atención a Pacientes con Enfermedades Crónicas en la Comunidad de Madrid 2013.
Minamino T, Miyauchi H, Yoshida T, Ishida Y, Yoshida H, Komuro I. Endothelial cell senescence in human atherosclerosis: role of telomere in endothelial dysfunction. Circulation. 2002 Apr;105(13):1541-4. PubMed PMID: 11927518. eng.
Carracedo J, Buendía P, Merino A, Soriano S, Esquivias E, Martín-Malo A, et al. Cellular senescence determines endothelial cell damage induced by uremia. Exp Gerontol. 2013 Aug;48(8):766-73. PubMed PMID: 23624226. eng.
Stenvinkel P, Larsson TE. Chronic kidney disease: a clinical model of premature aging. Am J Kidney Dis. 2013 Aug;62(2):339-51. PubMed PMID: 23357108. Epub 2013/01/26. eng.
Brownlee M. Advanced protein glycosylation in diabetes and aging. Annu Rev Med. 1995;46:223-34. PubMed PMID: 7598459. eng.
Foley RN, Parfrey PS, Sarnak MJ. Clinical epidemiology of cardiovascular disease in chronic renal disease. Am J Kidney Dis. 1998 Nov;32(5 Suppl 3):S112-9. PubMed PMID: 9820470. eng.
González Maqueda I, Casanova Rodríguez C, Escobar Cervantes C, Garcia Garcia A, Peraira Moral JR, Prieto Moriche E, Tejero Romero C. Enfermedad cardiovascular y función renal. Mecanismos patogénicos. Cardiovascular Disease and Renal Function. Pathogenetic Mechanisms. Revista Española de Cardiología Suplementos; 2008. p. 10E-21E.
Garrison FH. Medical Proverbs, Aphorisms and Epigrams. Bull N Y Acad Med. 1928 Oct;4(10):979-1005. PubMed PMID: 19311626. PMCID: PMC2393983. eng.
Childs BG, Durik M, Baker DJ, van Deursen JM. Cellular senescence in aging and age-related disease: from mechanisms to therapy. Nat Med. 2015 Dec;21(12):1424-35. PubMed PMID: 26646499. PMCID: PMC4748967. eng.
Sebastiani P, Thyagarajan B, Sun F, Schupf N, Newman AB, Montano M, et al. Biomarker signatures of aging. Aging Cell. 2017 04;16(2):329-38. PubMed PMID: 28058805. PMCID: PMC5334528. Epub 2017/01/06. eng.
Belsky DW, Caspi A, Houts R, Cohen HJ, Corcoran DL, Danese A, et al. Quantification of biological aging in young adults. Proc Natl Acad Sci U S A. 2015 Jul;112(30):E4104-10. PubMed PMID: 26150497. PMCID: PMC4522793. Epub 2015/07/06. eng.
North BJ, Sinclair DA. The intersection between aging and cardiovascular disease. Circ Res. 2012 Apr;110(8):1097-108. PubMed PMID: 22499900. PMCID: PMC3366686. eng.
HAYFLICK L, MOORHEAD PS. The serial cultivation of human diploid cell strains. Exp Cell Res. 1961 Dec;25:585-621. PubMed PMID: 13905658. eng.
Storer M, Mas A, Robert-Moreno A, Pecoraro M, Ortells MC, Di Giacomo V, et al. Senescence is a developmental mechanism that contributes to embryonic growth and patterning. Cell. 2013 Nov;155(5):1119-30. PubMed PMID: 24238961. Epub 2013/11/14. eng.
Muñoz-Espín D, Cañamero M, Maraver A, Gómez-López G, Contreras J, Murillo-Cuesta S, et al. Programmed cell senescence during mammalian embryonic development. Cell. 2013 Nov;155(5):1104-18. PubMed PMID: 24238962. Epub 2013/11/14. eng.
Muñoz-Espín D, Serrano M. Cellular senescence: from physiology to pathology. Nat Rev Mol Cell Biol. 2014 Jul;15(7):482-96. PubMed PMID: 24954210. eng.
Coppé JP, Patil CK, Rodier F, Sun Y, Muñoz DP, Goldstein J, et al. Senescence-associated secretory phenotypes reveal cell-nonautonomous functions of oncogenic RAS and the p53 tumor suppressor. PLoS Biol. 2008 Dec;6(12):2853-68. PubMed PMID: 19053174. PMCID: PMC2592359. eng.
Coppe JP, Desprez PY, Krtolica A, Campisi J. The senescence-associated secretory phenotype: the dark side of tumor suppression. Annu Rev Pathol. 2010;5:99-118. PubMed PMID: 20078217. PMCID: PMC4166495. Epub 2010/01/19.
Ott C, Jung T, Grune T, Höhn A. SIPS as a model to study age-related changes in proteolysis and aggregate formation. Mech Ageing Dev. 2018 03;170:72-81. PubMed PMID: 28755850. Epub 2017/07/27. eng.
Lopez-Otin C, Blasco MA, Partridge L, Serrano M, Kroemer G. The hallmarks of aging. Cell. 2013 Jun 6;153(6):1194-217. PubMed PMID: 23746838. PMCID: PMC3836174. Epub 2013/06/12.
Bär C, Bernardes de Jesus B, Serrano R, Tejera A, Ayuso E, Jimenez V, et al. Telomerase expression confers cardioprotection in the adult mouse heart after acute myocardial infarction. Nat Commun. 2014 Dec;5:5863. PubMed PMID: 25519492. PMCID: PMC4871230. Epub 2014/12/18. eng.
Chen WY, Wang DH, Yen RC, Luo J, Gu W, Baylin SB. Tumor suppressor HIC1 directly regulates SIRT1 to modulate p53-dependent DNA-damage responses. Cell. 2005 Nov;123(3):437-48. PubMed PMID: 16269335. eng.
Chakraborty S, Rasool RU, Kumar S, Nayak D, Rah B, Katoch A, et al. Cristacarpin promotes ER stress-mediated ROS generation leading to premature senescence by activation of p21(waf-1). Age (Dordr). 2016 Jun;38(3):62. PubMed PMID: 27246693. PMCID: PMC5005927. Epub 2016/05/31. eng.
Debacq-Chainiaux F, Erusalimsky JD, Campisi J, Toussaint O. Protocols to detect senescence-associated beta-galactosidase (SA-betagal) activity, a biomarker of senescent cells in culture and in vivo. Nat Protoc. 2009;4(12):1798-806. PubMed PMID: 20010931. eng.
Campisi J, d'Adda di Fagagna F. Cellular senescence: when bad things happen to good cells. Nat Rev Mol Cell Biol. 2007 Sep;8(9):729-40. PubMed PMID: 17667954. eng.
Childs BG, Baker DJ, Kirkland JL, Campisi J, van Deursen JM. Senescence and apoptosis: dueling or complementary cell fates? EMBO Rep. 2014 Nov;15(11):1139-53. PubMed PMID: 25312810. PMCID: PMC4253488. Epub 2014/10/13. eng.
van Deursen JM. The role of senescent cells in ageing. Nature. 2014 May;509(7501):439-46. PubMed PMID: 24848057. PMCID: PMC4214092. eng.
Campisi J, Robert L. Cell senescence: role in aging and age-related diseases. Interdiscip Top Gerontol. 2014;39:45-61. PubMed PMID: 24862014. PMCID: PMC4211612. Epub 2014/05/13. eng.
Jurk D, Wilson C, Passos JF, Oakley F, Correia-Melo C, Greaves L, et al. Chronic inflammation induces telomere dysfunction and accelerates ageing in mice. Nat Commun. 2014 Jun;2:4172. PubMed PMID: 24960204. PMCID: PMC4090717. Epub 2014/06/24. eng.
Davalli P, Mitic T, Caporali A, Lauriola A, D'Arca D. ROS, Cell Senescence, and Novel Molecular Mechanisms in Aging and Age-Related Diseases. Oxid Med Cell Longev. 2016;2016:3565127. PubMed PMID: 27247702. PMCID: PMC4877482. Epub 2016/05/10. eng.
Romá-Mateo C, Seco-Cervera M, Ibáñez-Cabellos JS, Pérez G, Berenguer-Pascual E, Rodríguez LR, et al. Oxidative Stress and the Epigenetics of Cell Senescence: Insights from Progeroid Syndromes. Curr Pharm Des. 2018;24(40):4755-70. PubMed PMID: 30644344. eng.
Robinson AR, Yousefzadeh MJ, Rozgaja TA, Wang J, Li X, Tilstra JS, et al. Spontaneous DNA damage to the nuclear genome promotes senescence, redox imbalance and aging. Redox Biol. 2018 07;17:259-73. PubMed PMID: 29747066. PMCID: PMC6006678. Epub 2018/04/13. eng.
Rice-Evans CA, Gopinathan V. Oxygen toxicity, free radicals and antioxidants in human disease: biochemical implications in atherosclerosis and the problems of premature neonates. Essays Biochem. 1995;29:39-63. PubMed PMID: 9189713. eng.
Daenen K, Andries A, Mekahli D, Van Schepdael A, Jouret F, Bammens B. Oxidative stress in chronic kidney disease. Pediatr Nephrol. 2019 06;34(6):975-91. PubMed PMID: 30105414. Epub 2018/08/13. eng.
Kudryavtseva AV, Krasnov GS, Dmitriev AA, Alekseev BY, Kardymon OL, Sadritdinova AF, et al. Mitochondrial dysfunction and oxidative stress in aging and cancer. Oncotarget. 2016 Jul;7(29):44879-905. PubMed PMID: 27270647. PMCID: PMC5216692. eng.
HARMAN D. Aging: a theory based on free radical and radiation chemistry. J Gerontol. 1956 Jul;11(3):298-300. PubMed PMID: 13332224. eng.
Bokov A, Chaudhuri A, Richardson A. The role of oxidative damage and stress in aging. Mech Ageing Dev. 2004 2004 Oct-Nov;125(10-11):811-26. PubMed PMID: 15541775. eng.
Sohal RS, Mockett RJ, Orr WC. Mechanisms of aging: an appraisal of the oxidative stress hypothesis. Free Radic Biol Med. 2002 Sep;33(5):575-86. PubMed PMID: 12208343. eng.
Sohal RS, Orr WC. The redox stress hypothesis of aging. Free Radic Biol Med. 2012 Feb;52(3):539-55. PubMed PMID: 22080087. PMCID: PMC3267846. Epub 2011/10/24. eng.
Salmon AB, Richardson A, Pérez VI. Update on the oxidative stress theory of aging: does oxidative stress play a role in aging or healthy aging? Free Radic Biol Med. 2010 Mar;48(5):642-55. PubMed PMID: 20036736. PMCID: PMC2819595. Epub 2009/12/28. eng.
Lawless C, Wang C, Jurk D, Merz A, Zglinicki T, Passos JF. Quantitative assessment of markers for cell senescence. Exp Gerontol. 2010 Oct;45(10):772-8. PubMed PMID: 20117203. ENG.
Liu R, Liu H, Ha Y, Tilton RG, Zhang W. Oxidative stress induces endothelial cell senescence via downregulation of Sirt6. Biomed Res Int. 2014;2014:902842. PubMed PMID: 25162034. PMCID: PMC4138737. Epub 2014/08/05. eng.
Bodega G, Alique M, Bohórquez L, Ciordia S, Mena MC, Ramírez MR. The Antioxidant Machinery of Young and Senescent Human Umbilical Vein Endothelial Cells and Their Microvesicles. Oxid Med Cell Longev. 2017;2017:7094781. PubMed PMID: 28642812. PMCID: PMC5470024. Epub 2017/05/31. eng.
Bodega G, Alique M, Bohórquez L, Morán M, Magro L, Puebla L, et al. Young and Especially Senescent Endothelial Microvesicles Produce NADPH: The Fuel for Their Antioxidant Machinery. Oxid Med Cell Longev. 2018;2018:3183794. PubMed PMID: 29849879. PMCID: PMC5907394. Epub 2018/04/05. eng.
Regina C, Panatta E, Candi E, Melino G, Amelio I, Balistreri CR, et al. Vascular ageing and endothelial cell senescence: Molecular mechanisms of physiology and diseases. Mech Ageing Dev. 2016 Oct;159:14-21. PubMed PMID: 27155208. Epub 2016/05/04. eng.
Guo J, Lu L, Hua Y, Huang K, Wang I, Huang L, et al. Vasculopathy in the setting of cardiorenal syndrome: roles of protein-bound uremic toxins. Am J Physiol Heart Circ Physiol. 2017 Jul;313(1):H1-H13. PubMed PMID: 28411233. Epub 2017/04/14. eng.
Galley HF, Webster NR. Physiology of the endothelium. Br J Anaesth. 2004 Jul;93(1):105-13. PubMed PMID: 15121728. Epub 2004/04/30. eng.
Minamino T, Miyauchi H, Yoshida T, Tateno K, Kunieda T, Komuro I. Vascular cell senescence and vascular aging. J Mol Cell Cardiol. 2004 Feb;36(2):175-83. PubMed PMID: 14871544. eng.
Minamino T, Komuro I. Vascular cell senescence: contribution to atherosclerosis. Circ Res. 2007 Jan;100(1):15-26. PubMed PMID: 17204661. eng.
Emanueli C, Shearn AI, Angelini GD, Sahoo S. Exosomes and exosomal miRNAs in cardiovascular protection and repair. Vascul Pharmacol. 2015 Aug;71:24-30. PubMed PMID: 25869502. PMCID: PMC4838026. Epub 2015/04/11. eng.
Xiong J, Miller VM, Li Y, Jayachandran M. Microvesicles at the crossroads between infection and cardiovascular diseases. J Cardiovasc Pharmacol. 2012 Feb;59(2):124-32. PubMed PMID: 21242813. PMCID: PMC3090703. eng.
Jayachandran M, Miller VM, Heit JA, Owen WG. Methodology for isolation, identification and characterization of microvesicles in peripheral blood. J Immunol Methods. 2012 Jan;375(1-2):207-14. PubMed PMID: 22075275. PMCID: PMC3253871. Epub 2011/10/29. eng.
Tomaniak M, G?secka A, Filipiak KJ. Cell-derived microvesicles in cardiovascular diseases and antiplatelet therapy monitoring - A lesson for future trials? Current evidence, recent progresses and perspectives of clinical application. Int J Cardiol. 2017 Jan;226:93-102. PubMed PMID: 27792994. Epub 2016/10/08. eng.
Raposo G, Stoorvogel W. Extracellular vesicles: exosomes, microvesicles, and friends. J Cell Biol. 2013 Feb;200(4):373-83. PubMed PMID: 23420871. PMCID: PMC3575529. eng.
Vozel D, Urši? B, Krek JL, Štukelj R, Kralj-Igli? V. Applicability of extracellular vesicles in clinical studies. Eur J Clin Invest. 2017 Apr;47(4):305-13. PubMed PMID: 28156006. Epub 2017/02/28. eng.
Dignat-George F, Boulanger CM. The many faces of endothelial microparticles. Arterioscler Thromb Vasc Biol. 2011 Jan;31(1):27-33. PubMed PMID: 21160065. eng.
Loyer X, Vion AC, Tedgui A, Boulanger CM. Microvesicles as cell-cell messengers in cardiovascular diseases. Circ Res. 2014 Jan;114(2):345-53. PubMed PMID: 24436430. eng.
Soriano S, Carmona A, Triviño F, Rodriguez M, Alvarez-Benito M, Martín-Malo A, et al. Endothelial damage and vascular calcification in patients with chronic kidney disease. Am J Physiol Renal Physiol. 2014 Dec;307(11):F1302-11. PubMed PMID: 25339701. Epub 2014/10/22. eng.
Carmona A, Agüera ML, Luna-Ruiz C, Buendía P, Calleros L, García-Jerez A, et al. Markers of endothelial damage in patients with chronic kidney disease on hemodialysis. Am J Physiol Renal Physiol. 2017 Apr;312(4):F673-F81. PubMed PMID: 28077371. Epub 2017/01/11. eng.
Forest A, Pautas E, Ray P, Bonnet D, Verny M, Amabile N, et al. Circulating microparticles and procoagulant activity in elderly patients. J Gerontol A Biol Sci Med Sci. 2010 Apr;65(4):414-20. PubMed PMID: 19942591. eng.
Markiewicz M, Richard E, Marks N, Ludwicka-Bradley A. Impact of endothelial microparticles on coagulation, inflammation, and angiogenesis in age-related vascular diseases. J Aging Res. 2013;2013:734509. PubMed PMID: 24288612. PMCID: PMC3830876. Epub 2013/10/28. eng.
Gustafson CM, Shepherd AJ, Miller VM, Jayachandran M. Age- and sex-specific differences in blood-borne microvesicles from apparently healthy humans. Biol Sex Differ. 2015;6:10. PubMed PMID: 25964851. PMCID: PMC4426551. Epub 2015/05/11. eng.
Alique M, Ruíz-Torres MP, Bodega G, Noci MV, Troyano N, Bohórquez L, et al. Microvesicles from the plasma of elderly subjects and from senescent endothelial cells promote vascular calcification. Aging (Albany NY). 2017 03;9(3):778-89. PubMed PMID: 28278131. PMCID: PMC5391231. eng.
Cantaluppi V, Gatti S, Medica D, Figliolini F, Bruno S, Deregibus MC, et al. Microvesicles derived from endothelial progenitor cells protect the kidney from ischemia-reperfusion injury by microRNA-dependent reprogramming of resident renal cells. Kidney Int. 2012 Aug;82(4):412-27. PubMed PMID: 22495296. Epub 2012/04/11. eng.
Ramirez R, Carracedo J, Merino A, Nogueras S, Alvarez-Lara MA, Rodríguez M, et al. Microinflammation induces endothelial damage in hemodialysis patients: the role of convective transport. Kidney Int. 2007 Jul;72(1):108-13. PubMed PMID: 17429343. Epub 2007/04/11. eng.
Leopold JA. Vascular calcification: Mechanisms of vascular smooth muscle cell calcification. Trends Cardiovasc Med. 2015 May;25(4):267-74. PubMed PMID: 25435520. PMCID: PMC4414672. Epub 2014/10/30. eng.
Buendía P, Montes de Oca A, Madueño JA, Merino A, Martín-Malo A, Aljama P, et al. Endothelial microparticles mediate inflammation-induced vascular calcification. FASEB J. 2015 Jan;29(1):173-81. PubMed PMID: 25342130. eng.
Luna C, Carmona A, Alique M, Carracedo J, Ramirez R. TNF alpha-Damaged-HUVECs Microparticles Modify Endothelial Progenitor Cell Functional Activity. Frontiers in Physiology. 2015 DEC 22 2015;6. PubMed PMID: WOS:000366891800001.
Alique M, Bodega G, Giannarelli C, Carracedo J, Ramírez R. MicroRNA-126 regulates Hypoxia-Inducible Factor-1? which inhibited migration, proliferation, and angiogenesis in replicative endothelial senescence. Sci Rep. 2019 May;9(1):7381. PubMed PMID: 31089163. PMCID: PMC6517399. Epub 2019/05/14. eng.
Alique M, Bodega G, Corchete E, García-Menéndez E, de Sequera P, Luque R, et al. Microvesicles from indoxyl sulfate-treated endothelial cells induce vascular calcification in vitro. Computational and Structural Biotechnology Journal: Elservier; 2020.
Deregibus MC, Cantaluppi V, Calogero R, Lo Iacono M, Tetta C, Biancone L, et al. Endothelial progenitor cell derived microvesicles activate an angiogenic program in endothelial cells by a horizontal transfer of mRNA. Blood. 2007 Oct;110(7):2440-8. PubMed PMID: 17536014. Epub 2007/05/29. eng.
Khan SY, Awad EM, Oszwald A, Mayr M, Yin X, Waltenberger B, et al. Premature senescence of endothelial cells upon chronic exposure to TNF? can be prevented by N-acetyl cysteine and plumericin. Sci Rep. 2017 Jan;7:39501. PubMed PMID: 28045034. PMCID: PMC5206708. Epub 2017/01/03. eng.
Carrecedo J R-CR, Alique M, Ramírez-Chamond R. Endothelial cell senescence in the pathogenesis of endothelial dysfunction: Intech; 2018.
Carracedo J, Alique M, Ramirez-Carracedo R, Bodega G, Ramirez R. Endothelial Extracellular Vesicles Produced by Senescent Cells: Pathophysiological Role in the Cardiovascular Disease Associated with all Types of Diabetes Mellitus. Curr Vasc Pharmacol. 2018 Aug. PubMed PMID: 30124156. Epub 2018/08/19. eng.
Kendrick J, Chonchol M. The role of phosphorus in the development and progression of vascular calcification. Am J Kidney Dis. 2011 Nov;58(5):826-34. PubMed PMID: 21956015. PMCID: PMC3199354. Epub 2011/09/28. eng.
Wilson PW, Kauppila LI, O'Donnell CJ, Kiel DP, Hannan M, Polak JM, et al. Abdominal aortic calcific deposits are an important predictor of vascular morbidity and mortality. Circulation. 2001 Mar;103(11):1529-34. PubMed PMID: 11257080. eng.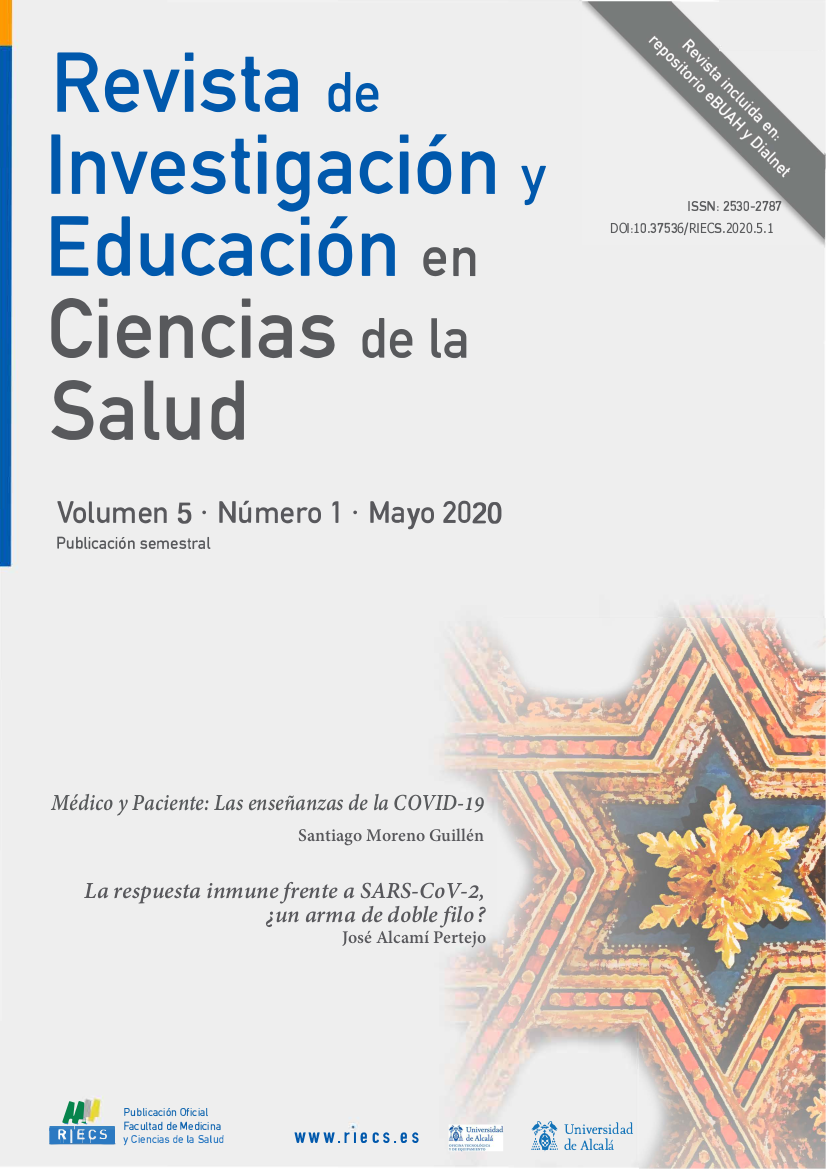 Descargas
Sección
Artículos de Revisión
Licencia
Esta obra está bajo una licencia internacional Creative Commons Atribución 4.0.